It's just under 2 hours before I leave to catch my flight back to the US.  I sit now in my hotel room stretching out my legs before the long trip home.  On March 1st, I arrived in Delhi, India for my second trip.  Exactly one year ago I arrived in Delhi, India for the first time for the Sapient People Portal project .  This time my purpose was to kick off the Coca-Cola Spark City Project with the team in Gurgaon.  My arrival to India the second time around was very different.  I anticipated the crowds, the dust, the craziness that is so wonderful yet so frustrating about India.  I knew where to go and didn't feel like I was completely lost in a foreign world
Getting off the plane, the familiar smell of a country of people and growth. It's hard to explain what that smell is but you can't forget it though I loose the smell after being here for a day. This time, I had my camera in hand and I was able to snap a photo of the welcoming party of rental car companies. There were over a hundred plus signs. They all stare at you with foreign names on their boards wondering if you are their guest. I found my ride. 🙂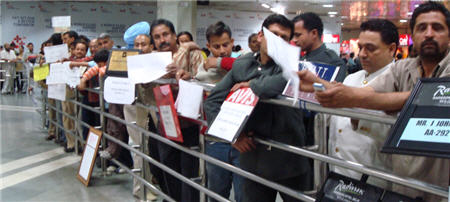 At the Sterling Guest House, and I was greeted warmly by the caretakers., Ankur, Laxman and Co. These guys were so glad to see me and I them. They treat me quite well and with great respect. I try my best to do the same for them. We exchanged hugs and hand shakes. It was a very nice reunion.
Gurgaon is quickly transforming. The dust is worse this time with the endless construction. From large corporate buildings, to sky metro rails, to little shacks.  The most notable is the huge metro project which is connecting all of Delhi and surrounding cities.  For just 10 Ruppees (25 cents) people will be able travel in a air condition train from Delhi to surrounding area.  The cab drivers and the rickshaws drivers are nervous for sure.  The project is slated to finish in another year.
I had lot's of shopping requests this time as usual and I had frequent trips to the nearby Sahara Mall. It's a small mall and not near as fancy as some of the new malls. These days malls are old if they have been around for a year or two.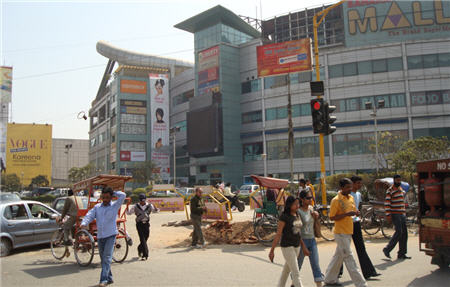 The fruit market near the guest house looks so colorful, I had to take this pic.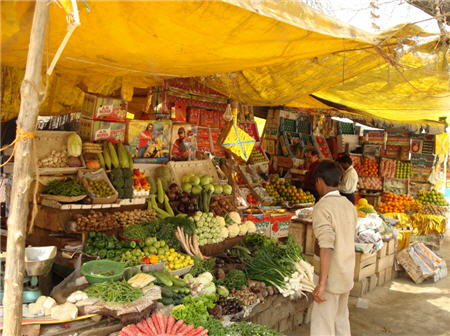 I met of up with Jomy and Avesh the first day after my arrival and we went around Delhi streets.  I told them I liked crowded markets, that wasn't hard to find.  Here's Avesh and I getting a local street treat.  It's steamed sweet corn kernels with butter and spices.  Very good.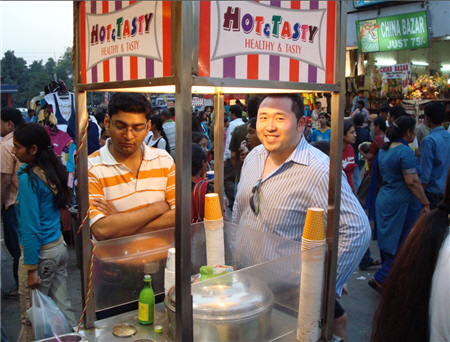 Jomy checking out how the cornwalla.
Another interesting looking street food that I did not try was this chaat dish.  It is made with fried patotoes, spices, onions and this creen curry.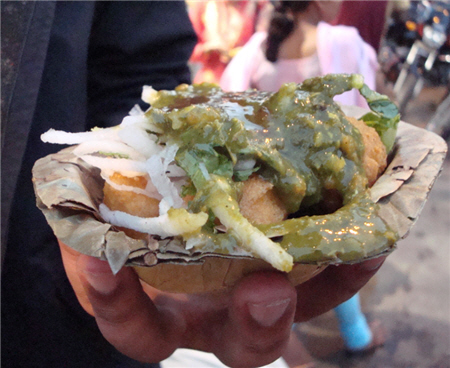 We ended the day at this spinning restaurant called Parikrama in Connaught Place.  The food was very good and the views were also nice though i was not able to capture it sufficiently with the camera.  The paneer or India cheese (curd) is the predominant food in India.  This particular dish, I think it was Paneer Pakora (fried paneer) covered with spices was particularly delicious.