How we met
We met at Boston University in November 1998.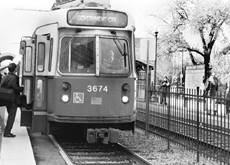 I was living at the unofficial Lambda Phi Epsilon fraternity house (unknowingly) while Ray was pledging for the fraternity that semester. We probably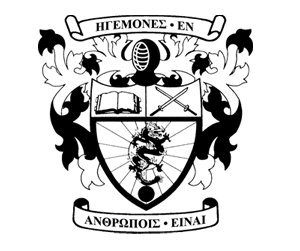 crossed paths several times throughout the Fall but did not really notice and acknowledge each other until the end of the semester. The first official meeting was at the BU Central Green Line T-stop. I saw Ray at the T-stop and recognized him as one of the pledges. I waved and said "Hi" to him. We chatted a little bit before the T arrived. Right before Ray got on the train, he asked me to do him a favor and not tell anyone that I saw him at the T-stop that night since he happened to see some of the fraternity brothers on the train but did not do what he was supposed to do as a pledge which was to run after the train to greet them.
Around a month later, Ray "unofficially" asked me out on a date to go ice skating at the Boston Common Frog Pond and dinner. According to Ray, I did not realize that it was supposed to be a date, so technically, to this day, almost nine years later, we still have not officially had our first date. The night was still amazing. We both had so much fun skating, laughing, holding onto each other as we both almost fell.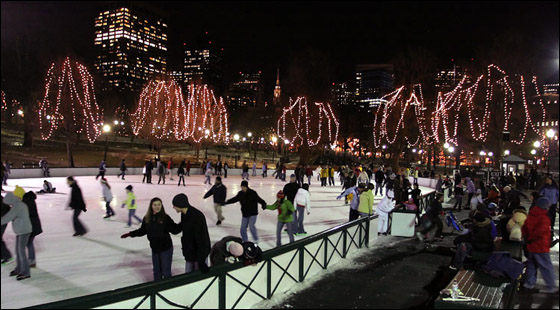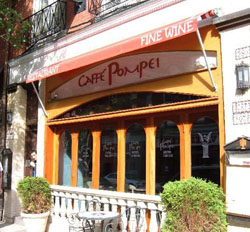 After skating we walked through the cold night holding each other to stay warm to Boston's North End. There were so many great places to pick from but we settled upon a place called Cafe Pompei. The night was still young and we were the first couple to dine that night. The food was good though neither of us can really recall what we ate.
We enjoyed each others company so much that after the meal we decided to take a walk through nearby Fanuel Hall. The winter christmas lights lined the trees of the stoned walkway of the large old Boston plaza. We sat down near a stone bench and chatted for over two hours before calling it a night and setting up the next outing together!
The Proposal
Ray proposed to Ashley on August 12, 2006 and the rest is history!
Ray wanted to surprise me so he played off the entire morning as a continued surprise for my belated birthday present. My birthday was several weeks before this, but since I was sick, Ray postponed my surprise. Two weeks before this, Ray took me to white-water rafting for the very first time. We had such a blast and it was exhilarating. The following week, he claimed to have my second part of the present, but I came down with a bad cold so he said that we will have my birthday present part 2 the following week. Looking back on hindsight, I should have seen that something fishy was going on. My mom called and she actually asked to speak to him. Although I thought it was strange for a second, I wasn't completely surprised. My parents came to the Bay Area for a couple of months before that and stayed at our place. During their stay, they have gotten to know Ray very well and really liked him. So when my mom asked Ray to come on the phone, I handed it over to him. On the morning of August 12, Ray woke me up at 3:30 in the morning and all he told me was to dress warmly and comfortably.
We started to drive and I asked him where we were going. He insisted that I stop asking him and that I should not worry since he's confident that I will enjoy the day. Another hindsight moment: He played a CD that he custom made with all my favorite love songs. I must have been very sleepy and ignored all the signs along the way.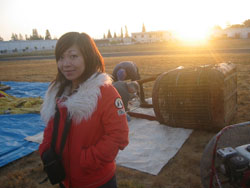 Even when we arrived to the site, it was still early and we just parked at a parking lot. I had no idea where we were or what was about to come. Ray told me to take a nap, which was what I did and the next thing I knew, it was dawn and there were other cars near us and other people walking near our car. Ray said it was time to go, so I went outside to see a van with a hot air balloons decal on the side. That was when I knew we were going to go hot air balloon!
I was so excited and thought this was a very nice birthday present but did not think there was more to that. As the instructor took us out to the Sonoma County Airport area to fill and prepare the balloon for the ride, he instructed that Ray and I go with another gentleman named John to set up another smaller balloon.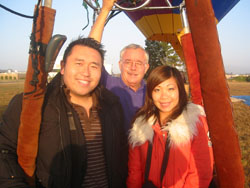 For a second, I got mad because I didn't know why we were getting separated from the rest of the group. Finally after the set up, Ray told me that we were doing a private tour and thus, the smaller balloon with just me, him, and John. I thought it was so sweet and romantic.
As we were up in the air, unfortunately, there was not a very good gust of wind that day to take us across the wine vineyards the way the tour was supposed to be. Rather, our balloon circled around the county airport.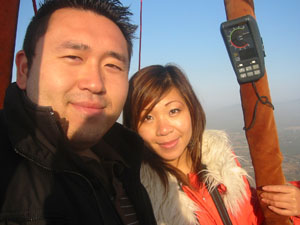 As we were up in the air about a 1,000 feet, Ray asked John if he could turn off the burner for a while (since it was noisy). Even up to this moment, I was clueless to what he was about to do. I was too busy holding on to the side of the balloon and enjoying the scenery. A little while later, John turned off the burner and that was when Ray took out a box and asked me to turn around. What happened next was beyond something I could imagine and dream of. Ray opened up a sheet of paper and read Ashley a beautiful and romantic note about their past 7 official years together. Due the the limited space on the balloon, Ray got down on half a knee and asked me to marry him. I was out words besides yes and was shocked for the next several hours.
It turned out that the other people in the other balloon knew that Ray proposed to me since the captain told them. My parents also knew that Ray was planning to propose to me, and thus, the strange phone call from my mom the week prior. She wanted to tell him to wait and not propose yet since I was sick.
The whole proposal was such a shock to me. I am so touched that Ray put in so much thought to plan the whole event.