Ashley arrived in Delhi late Friday night. I was so excited to see her after such a long time. The weather was hot and I was tired from a long hard week. The rush of being with Ash in India for the next 9 days really kept me pumped as the Cab driver pulled into Gandhi International Airport. There are always so many people lined up waiting for visitors. The majority of people waiting there are private taxi drivers. Next time I go back I will be more prepared and get a picture of this very overwehlming sight.
The next day after Ashley's arrival was a drive to Agora to see The Taj Mahal. It was really impressive as I imagined. Even the picture I took don't look real. The day was really hot as everyday at this time of season. Rampal our driver took us there.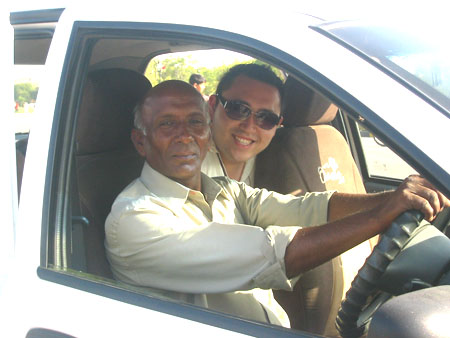 The entrance way to the Taj Mahal was a tourist trap of young kids claiming to be "the best guides and photographers you can ever find for a wonderful tour of the Taj Mahal". one such guy latched onto us by the name os "Sunny" and he persisted to walk with us all the way to the Taj Mahal, giving us a rapid fire download of his knowledge. We finally got away from him and started the self guided relaxing non evasive tour.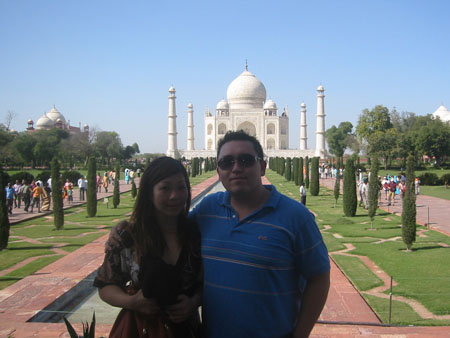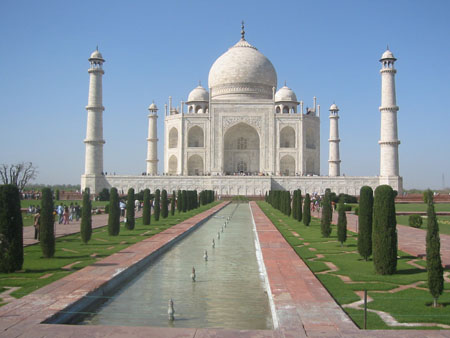 This picture is simply unreal. I love how the gate frames the tomb so nicely. The Taj Mahal gate creates a visual illusion in such a way that as you walk closer to the Taj Mahal the Taj seems to step back and as you get further it seems to come closer. The day was crowded and you can see the long line of colorful clothing you see everywhere in India.