On the plane back from about 12 days in India. I went to Delhi and Gurgaon again to meet my team and work with them for a week and a half. This marks my fifth time to India and in total I think I have logged almost half a year combined stay in India.
As far as work trips go, India is a bit more fun but I did not get a chance to sight see nor did I really feel the need for it. A weekend was just too short to go anywhere far and cool and I had already explored dehli numerous times. This trip however I did learn finally the game of Cricket and got into watching two games of the 2011 World Cup. This was actually a historic moment for India who national sport if Cricket, Cricket and more Cricket. I partied with a few coworkers/friends and watched the highly emotional India-Pakistan semi final match which India won. On Saturday I watched the entire game of India vs Sri Lanka. India won. The whole country went crazy and it was amazing to see such an event in India. I think the last time they won was in 1983. I went down to the hotel lobby just in time as India won the world cup. People in the hotel weren't just cheering. They were dancing. Guests and hotel workers alike hugged and danced together. Then this guy started to throw cake around and smeared half the people in the lobby with cake. Since I was there I got it too and also gave back some to a buch of others as well. Pretty soon the whole hotel lobby was slippery with pieces of cake. Needless to say, it was an experience.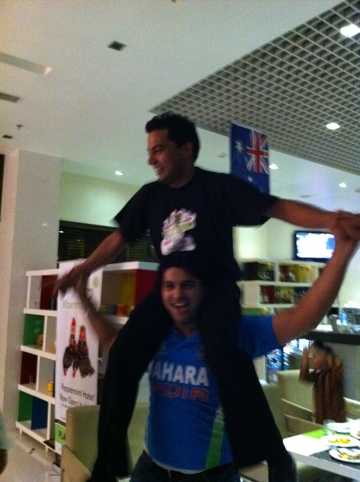 Meeting the team in India was excellent and I was able to finally learn all 40+ peoples names. We worked some long hours as I had a lot of meetings during the day with our leads there and had to run some meetings in the e evenings with our clients. It was really great to meet them face to face and we discussed and i hope took a lot of actions against many issues. Here's a pic of the Michelin team.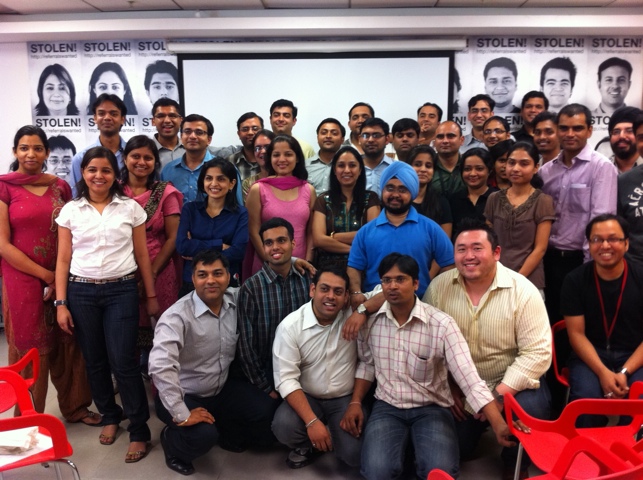 I also got a chance to meet some of their families over lunch on Sunday. Anuj, Kumar and Bahri have really cute kids and they we the center of our attention all through lunch. We ate at BBQ nation, a North Indian Grill. The food was excellent, except i thought the appetizer was the main course because there was so much food!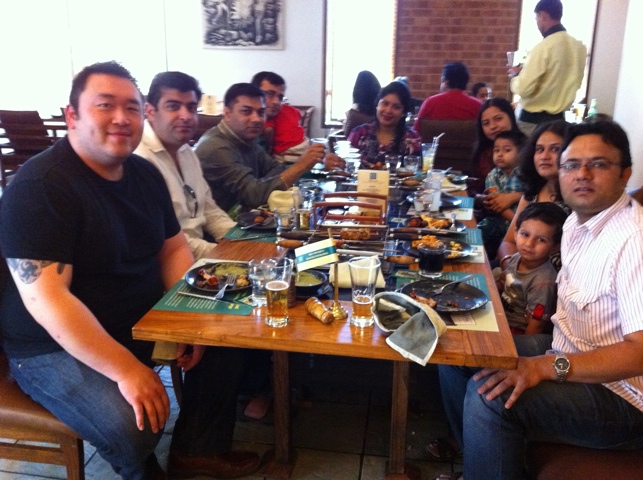 This time, I was able to meet up with Abi. He showed me his office and even one of his contraction sites. Abi was nice enough to take me around Delhi as we went jewelry hunting to buy some nice but affordable India style earrings and pendants. We eventually found a nice store in Karol Baugh a old market area in Delhi.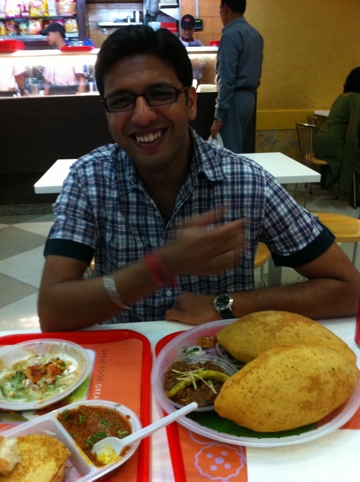 I had a great time in India, didn't get any food poison, brushed up on my Hindi, met up with old friends and met new ones and learned how to watch cricket. I still really missed Ash, Emery and Nai Nai however and I am really looking forward to be home.