It's been awhile since I last posted. Â Things got pretty busy after Ashley's birthday. Â Here's some updates:
iPHONE
Most importantly, I made the best purchase of 2008, the iPhone 3G!!!! Â This thing rocks. Â It's like a mini computer. Â I use for work email, music, calendar, GPS, facebook and games. Â Like the ad says, this has changed everything. Â I am also happy to announce that my old Motorola flip phone that was worse than the first cell phone I ever got is sitting quietly in some dark drawer gathering dust…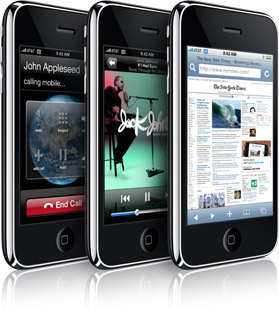 Ok with that major event out of the way…
Ashley's Hawaii and Cali Trip
In August Ash went to Hawaii and California to visit family. Â It was her PoPo's 90th birthday on August 27th!! Â She still looks quite good for her age and still enjoys fried food, especially fried shrimp and roast duck on a regular basis. Â Now that is a women with a good digestive system!
Ash also took lots of great photos of plants and flowers in Hawaii to use as materials for her painting. This one is my favorite and she should definitely paint this one.
California is also where Ziggy lives (LA). Â Ash spent lots of time with Megan and Dylan going to Disney Land and Sea World. I grew up on sesame street but these Cali kids grew up on Disney!
Ray in India
Around the same time in August, I went to India again to kick off another project with the Spark City team there. Â It started out great and I was having a great time working with everyone until I got sort of viral fever that was quite common in August after the monsoon. Â Unfortunately the fever knocked me out for the last week of the 2 weeks I was there. Â I still had a great time and we achieved all that I had hoped but I really wish I had the energy to spend more time with the team that last week.
Apple Picking
September was for the most part a heads down week for work though the weekends were pretty busy as well. Â Ash and I went with the Lo's to enjoy some Georgia apple picking which also included farm favorite attractions like cow milking, pig races and the plenty of fried food southern style. Â Below is a photo of Ash and I poking our faces through these cheesey cut-outs. Â We love these things and take a photo like this everywhere we find one. Â How do I look with the curls?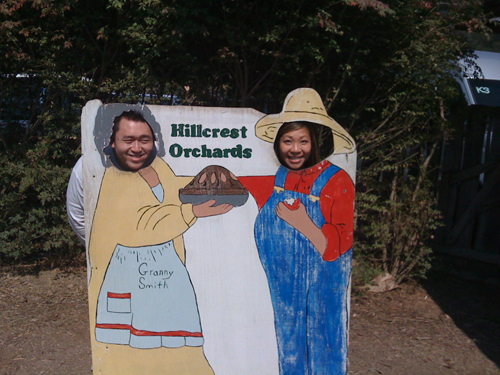 Ian's visit to the US
Ian also came and visited in September. Â It was his first time in the US and Ash and I drove down to Savanah where he was attending a conference. Â It has been alittle over 10 Years since we last saw each other in Beijing and Harbin. Â He was just 15 then and now he's married! Â We had a great time catching up and I was sorry to see him go. Â In my generation in China, most people don't have siblings so cousins are like brothers and sisters. Â I wish him and his wife the best!
Hollywod's Bachelor Party
It was also Hollhywood's bachlor party in September as well and I had a great time acting like the college days with the bros. Â We went skeet shooting, had lots of good food, and plenty of drinks. Â Here's a cool photo of me shooting down a wild boar! Â Just kidding, it was a clay disc…