On the morning of August 14, Ray and I headed to Newark Airport to board our flight to Vancouver to meet up with my family.  The Au's family planned a 10-day vacation to see Vancouver and Alaska. We were spending two days in Vancouver and then board a cruise ship to set sail to Alaska for the remaining seven days. My parents, both sisters, niece, nephew, Ray and I were all very excited. We haven't had a family outing in many years. My family and I have been to Vancouver once, a long, long time ago.  Seeing Vancouver again and seeing some of the changes and as well as new things were eye-opening. Vancouver is such a beautiful and clean city.  As soon as we arrived at the airport, my family was there to meet us and we headed out to our first stop: Capilano Bridge.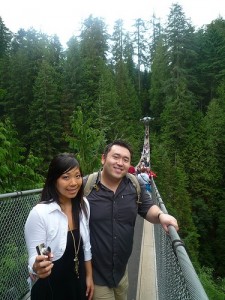 I could tell my parents were having a great time already and Ray reacquainted with Meagan fairly quickly. They haven't seen each since our wedding back in 2007. But as you can see, they became buddies right away. My dad spent the majority of the trip manhandling my nephew, Dylan. Boy, this kid was absolutely full of energy and no one could stop him. He was constantly moving, climbing, or doing things that made my parents unable to peel their eyes off him. Very fun to watch. I wish I could have that kind of energy!
The car rides throughout the two days in Vancouver were very cozy and rather pleasant.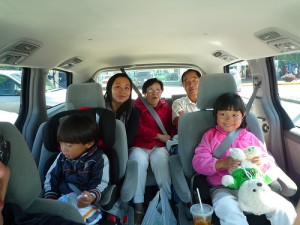 My parents loved Vancouver. It met one of their main criteria of a good place to visit: good chinese food. We went to several restaurants that had the Hong-Kong flavor and my parents reminisced about the food and how they miss Hong Kong itself.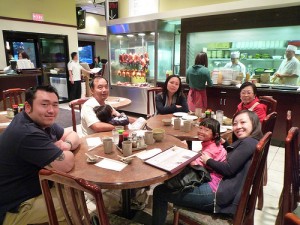 At noon on the 17th, we embarked the Island Princess cruise ship and were off to Alaska. Our agenda included landing on three major ports: Ketchikan, Skagway and Juneau, along with passing by Glacier Bay National Parkand College Fjord. Our first stop in Alaska was Ketchikan. According to a local guide, Ketchikan was the actual destination for the "Bridge to Nowhere" made infamous during Sarah Palin's campaign.  Ketchikan and pretty much everywhere we visited in Alaska had delicious canned salmon. They were extremely different than what we could find back in New York's gourmet stores. Ray and I also took a walking tour around the quaint city and saw some amazing things, such as a bald eagle and an owl. That owl could turn its head 240 degrees within milliseconds. Crazy huh? They were presented by a local preservation group reaching out to educate the public about these fascinating creatures.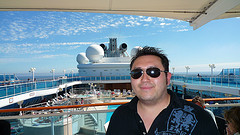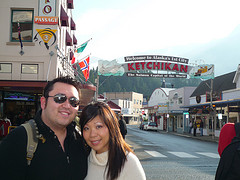 The cruise ship itself was pretty amazing. There were so many activities going on at any given hour. We all kept busy throughout the day, either getting off and exploring the different ports or stayed on the boat, relaxed and enjoyed the numerous activities offered, ranging from movies to shows to playing ping pong. My parents, especially my mom, love to play cards, and hadn't had a chance to do that in some time. We took advantage of the card room and had a blast. My mom was very lucky and consistently won.
Ray even played some chinese chess with my dad. Loser drinks every time he lost a piece. Ray and I even teamed up against my dad, but my dad blew us into the water. He called us amateurs. 🙂 That's okay, we made him drink his share of the wine we bought at one of the ports.
No matter what everyone did during the day, we always tried to meet up for dinner every night at one of the formal dining rooms. The dining experience on the boat was pretty good; well-presented dishes, great service and a respectable variety. We sat on the same table every night since they were reserved for us and we had the same two waiters throughout the entire cruise.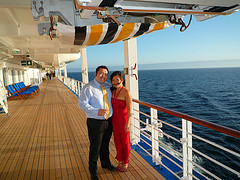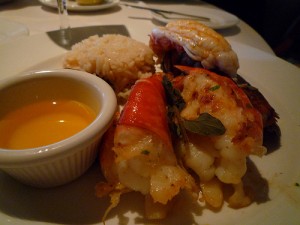 Meagan was ready to eat! She called me the week before the trip and gave me a heads up on what she intended to eat on the cruise. She is an experienced "cruiser", having been on several cruises before, including the Disney cruise. She knew what kinds of food would be available on the boat and she literally named a laundry list of what she planned to consume. On top of that, she challenged that she would eat more than Uncle Ray. I can tell you that she lived up to her end of her claim… the girl can eat! Don't let the little 5-year old frame fool you.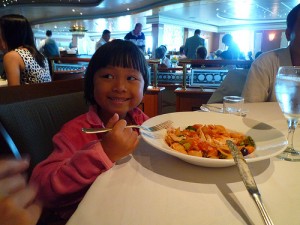 Dylan, on the other hand, was more interested in doing other things on the boat besides eating. He wanted to climb, climb and climb, and make everyone nervous that he would fall off somewhere. Thank goodness, he is very agile and strong and knew exactly what he was doing… not even one accident…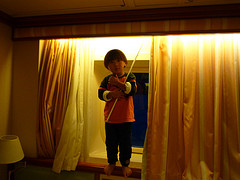 The main attraction on this cruise, of course, was to see glaciers. The views were breathtaking at any angle, anywhere on the ship.  I never knew this type of scenery truly existed until I witnessed it with my own eyes. We saw glaciers calving as we got up pretty close. It was beyond what words could describe.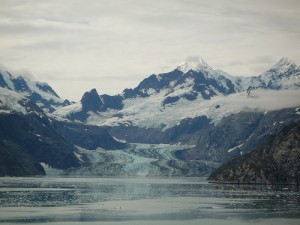 At some point, we were getting so used to seeing the amazing scenery that we began to take it for granted. See Ray talking or checking his phone and ignoring the beautiful view behind him… ("Oh, it's just some ginormous glacier….no big deal, we've been seeing this throughout the cruise")….Get off the phone!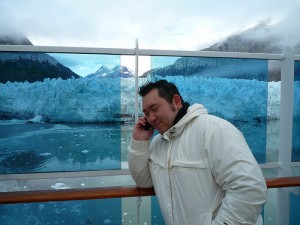 One of Ray's and my favorite events throughout the cruise was visiting the Alaska Sled Dog and Musher's Camp in Skagway.  It was pouring outside and the shuttle ride to the camp site was over an hour.  But! It was worth every minute! The sled dog and musher's camp had over 300 dogs with each one having its own little dog house. These dogs were there to train to run in dog sled races.  Some races stretch over a 1,000 miles. Absolutely incredible. The dogs get anxious every time a van pulls up to the site because they knew that it may be an opportunity for them to pull the cart and get to run. Ray and I both agreed it was one of the most incredible experiences we've had. After the 1-mile run pulled by about 16 dogs, with a cart of about 7 people, we even had a chance to play with some of the pups.  SO MUCH FUNNNNNN!!!
This trip was incredible.  On the morning of the 24th, we disembarked in Whittier, Alaska and took a bus to the airport.  I think this was one of the best vacations we have ever been on so far.