Our good friend, Jimmy Chang and his wife, Kat, got married in Hawaii in April. Ray and I wouldn't miss that opportunity to attend the wedding as well as visit family and friends back home. The wedding was absolutely beautiful and Jimmy and Kat were a stunning couple. We were also able to see some friends from college at the wedding and it was a nice reunion.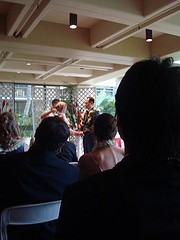 During our 10-day trip, we were able to do a bunch of things, including spending some precious time with my parents and my popo (grandma). We had really good food, starting from eating Pok'e (raw fish with seasonings) for breakfast, to dim sum for lunch, to eating at Roy's for dinner. Of course, these were on different days, but every meal throughout the trip was savored.
Shave Ice at Waiola's was a must! We had the azuki bean, mochi balls, with condensed milk shave ice bowl.  Holy moly!!! We also went to the local institution, Zippy's a couple of times. You haven't been to Hawaii without going to Zippy's. Zippy's is a franchise in Hawaii that has all sorts of local food, ranging from its infamous chili to its plate lunches (always two scoops rice, one scoop macaroni salad).
Ray and I even spent a day on the Big Island, also named Hawaii. It was a short flight from Honolulu. We took a tour from HIlo to Kona and visited the volcano park and other various sites on the island. Ray was such a fun traveling partner. How can you not laugh when he does silly things such as the picture below?
Back on the island of O'ahu, we spent some time with my grandma popo and drove around a lot to do sightseeing. We went to do a little snorkeling one afternoon at Hanauma Bay but my snorkels were broken, so only Ray was able to explore in the water and find some interesting creatures.
During one of nights cruising around, we stopped at Kahala Mall to buy some things at Whole Foods. A few doors down, there was a smashing party going on and we walked over to see what was going on. There were cameras everywhere outside the door, as if people were waiting for some celebrity to come in and out of the joint. As it turns out, it was a party that included guests from the TV show, "Lost", which was filmed on the islands.  Ray couldn't resist the temptation and waited along with other bystanders.  His patience paid off, when Ben, from the show, came out for some fresh air.

The trip was great. Ten days were too little to do what we wanted and we hope to go back again soon. It was a nice little break from New York and everything in Hawaii was very laid back.