Ray started his new assignment in New York City back in January and had been traveling back and forth to Atlanta on the weekends. He stayed at the Dream Hotel in Midtown and made it his temporary home. In February around Valentine's Day, I visited him in New York and we spent several days in the city. We had a blast. Valentine's Day weekend in New York City was very romantic. We did a lot of touristy things but it was so much fun. During the day, we walked around Central Park and actually rode the horse carriage!
Later that night, we had dinner at a little cozy French Bistro called Tout Va Bien not far from the hotel. Pretty yummy food. Their bouillabaise was the first I've had in New York. Ray liked their escargot.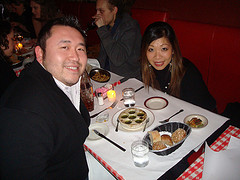 During one of the weekdays, we went to see the "Today's Show". We watch it every morning and it was pretty cool to be there seeing the hosts in person. We saw Meredith Viera, Al Roker and Ann Curry. Ray shook Al's hand and he was star struck. 🙂 Also, a close-up of Meredith…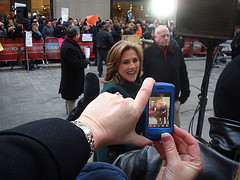 Of course, a visit to New York City wouldn't be complete without spending some time in Times Square. Although Ray and I have been to New York many times, we still act like it's our first time there, taking pictures like other tourists. And as silly as we are, a little visit to the mega 3-story Toy's R Us store turned us back into little kids and we ended up engaging ourselves in a foam sword fighting battle. Yes, it's a little embarrassing to be around us, or to claim to know us…
It was definitely a fun-filled trip. After that visit, Ray resumed back to work and I went back to Atlanta to plan our move to New York for the next year. I started to look for an apartment for us and would come back to NYC a few weeks later.