After Bean left on the New Years eve, Ash, the dogs and I drove to New Orleans. It was our first time there and we, (especially Ash) went there with great hopes that Hawaii would win the Sugar Bowl against University of Georgia. It was an important game for Hawaii as it was there first Bowl and they were coming in with an undefeated season in the WAC. So with great hopes along with almost 15,000 other folks from Hawaii we descended upon Nawleans.
We got there around 9 pm, it was about a 7.5 hour drive from Atlanta and we headed to Bourbon street. Man was Bourbon street something new for us. It was crowded, noisy, colorful and partying was everywhere. It's like the the mother of all block parties. Over 16 blocks of bars, restaurants, clubs, and convenience stores, I can't imagine how any college student does work in this city. Anyways there were a ton of Hawaii fans, all sporting the school spirit. We joined up with Byron and Johnny near a bar called Johnny Whites which seemed to be the HQ of the Hawaii fan base. The crowd was crazy, people throwing beads, shouting out UH and generally causing a scene. Of course there was plenty of drinking, street dancing, and the notorious flashing for beads. None of us did any of that. Plus no one wants to see me without a shirt. I doubt I'd get beads…
Here's some pics from that New Years night on Bourbon Street.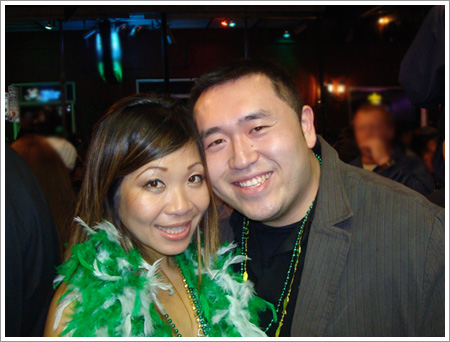 The below is the street outside Johnny Whites, notice the Hawaii Banners.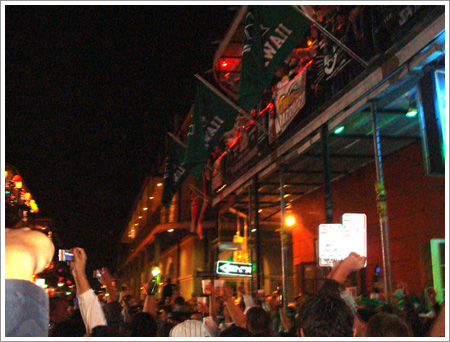 People standing on balconies throwing beads at the crowd.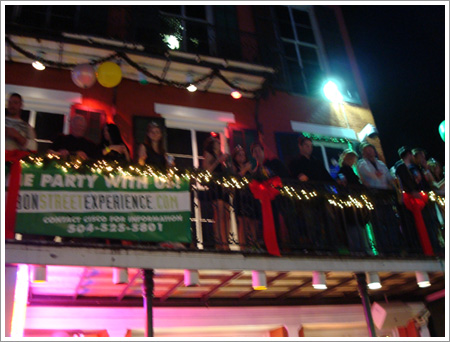 The next day was the big game. We slept in and made our way to the Louisiana Superdome. The capacity there was about 70,000 I heard. It was definitely huge and at first we thought our seats would be so high up that we wouldn't feel a part of the game. However, upon arriving at the upper terrace seats, they weren't so bad. Of course the game did turn out to be very bad. What a mismatch. Hawaii didn't have very much of a chance and got their asses whooped 41 to 10. The game got pretty nasty as the Hawaii fans were pretty upset and the Georgia fans felt cheated of a good match up, at one point in the 3rd quarter a chant started going from the UGA fans saying "overrated". That definitely hurt. They tried there best and fought to the end, and no matter what it took some hard work to get there. Anyways I am no College Football pundit so I'll stop there and leave it to others. Here's some pics. Ash and I still had fun going to the game and cheering on for Hawaii.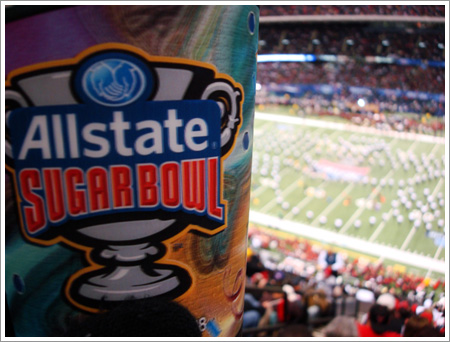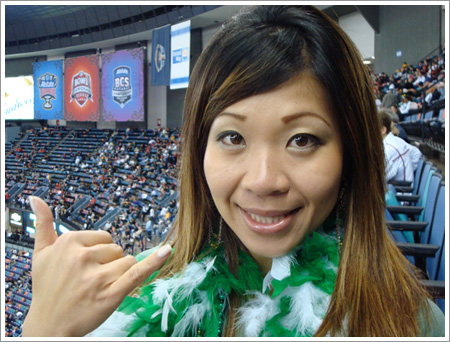 The photo below is my favorite photo of the trip, so appropriate and love the colors.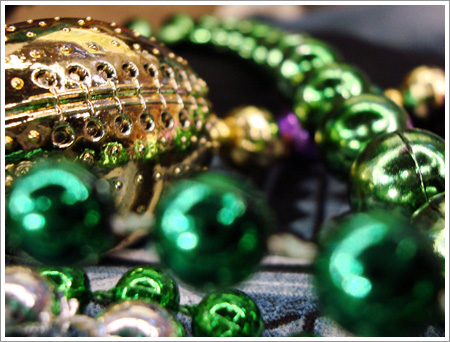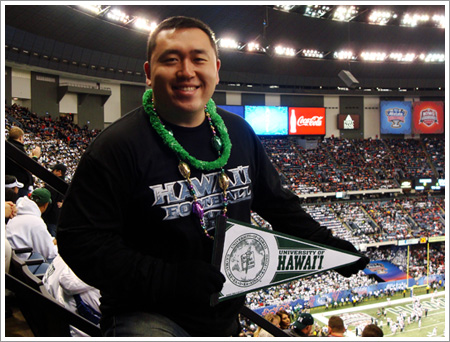 The day after the game, we took a bit of time to see the French Quarter in day light and grab some food before going. I really, really love the French Quarter. In fact if I could figure out a way to move there and convince Ash I would do it. New Orleans has so much culture and character. The very strong French influence, the old buildings, the balconies, the southern twist. Awesome. We only had a few hours to walk around but we definitely have to come back especially since I didn't get to take any good photos.
Ash and I on Royal Street in the French Quarter.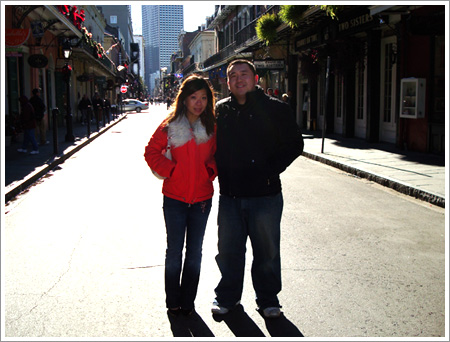 We had lunch at Mr. B's Bistro. Ash really wanted to have some good gumbo and I read a few good reviews from Chowhound. Ash got the Seafood Gumbo and I got the Gumbo Ya Ya. Unfortunately the Gumbo wasn't that great but the Jambalaya I got was Superb. Really rich and full of flavor. It was more soupy than I expected and was mixed with Spinach Fettuccine. The Jambalaya had chicken, beef, and sausage, shrimp, tomatoes, onions, carrots.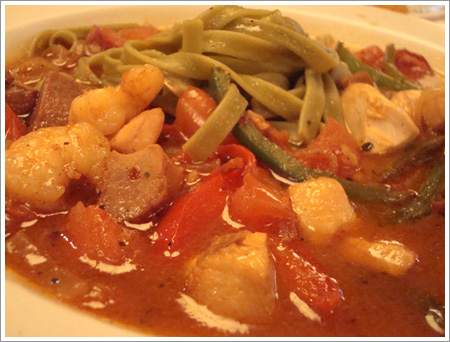 For dessert we split a Brennan family special Bread Pudding. Pretty good though not amazing like the Jambalaya.
Our last stop before leaving was to check out the famous grocery store in the French Quarter called "Central Grocery". It is home to the Muffuletta. I never heard of a muffuletta before but here's a excerpt of the full Muffuletta definition from Wikipedia.
"The muffuletta sandwich originated in 1906 at Central Grocery, which was operated by Salvatore Lupo, a Sicilian immigrant. The sandwich is popular with city natives and visitors, and has been described as "one of the great sandwiches of the world."[1] Central Grocery still serves the sandwich using the original recipe. Other variations are served throughout the city. The locals have differing opinions on which shop serves the best muffuletta.?"
So of course we had to try it from the origin. It's very oily (olive oil) and loaded with Olives.
Loaded with Olives, Salami, other Italian meats and provolone. Especially good, if you like olives!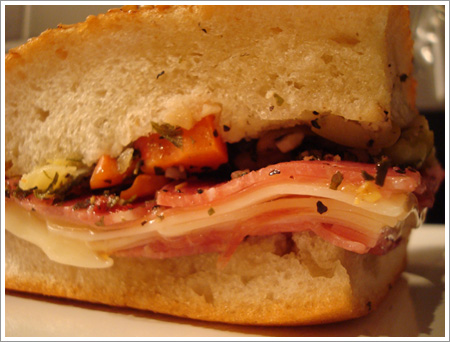 Ash and I had a great trip and it was such a great way to kick off the new year! Best of luck to us and all our friends and family in 2008. Thanks for all your wonderful Holiday cards and gifts! Happy New Year!