I've always wanted to see the largest trees on the planet and we were so close being in California that it would be a shame not to take a look. Two days before we left California, Ashley, the dogs and I drove 4.5 hours south to Sequoia National Park. The drive was calm and not particularly scenic. We passed by the typical California small towns, farms with rolling hills and yellow grass.
Sequoia National Park is divided into two large parks, Kings Canyon and Sequoia National Park. We entered through the northern entrance and took this picture. America's national park entrances are not auspicious and always involve this form of a wooden sign.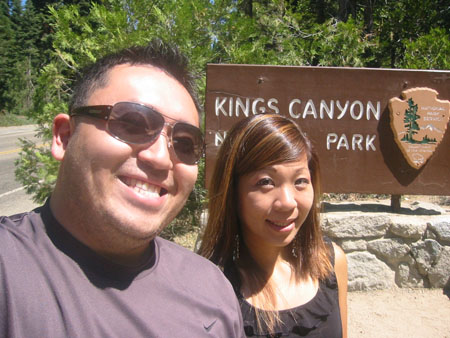 Our first stop was the General Grant Tree, the third largest tree in the world. "The General Grant Tree is a living memorial to the men and women of the United States who have given their lives in service to their country. It was proclaimed a National Shrine on March 29, 1956 by President Dwight D. Eisenhower. The official dedication was made that year on Veterans Day, November 11, by the president's personal representative, Fleet Admiral Chester Nimitz. Each year during the Christmas ceremony, park rangers place a large wreath at the base of the Grant Tree, remembering those who gave their lives. " (from www.nps.gov) The tree is over 267 feet tall, 40 feet across its base and over 107 feet around. Estimates of its age range from 1500 to 2000 years old.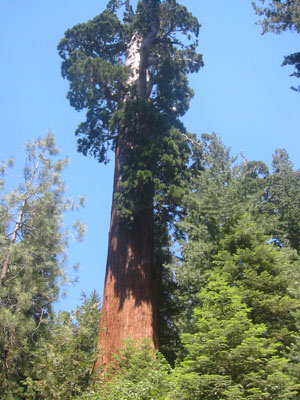 The trees were so large it was very hard to take photos that captured the size and majesty of each tree and the feeling of walking amongst giants. We took a fee photos of some giant sequoia trees which had fallen which show a better sense of their size.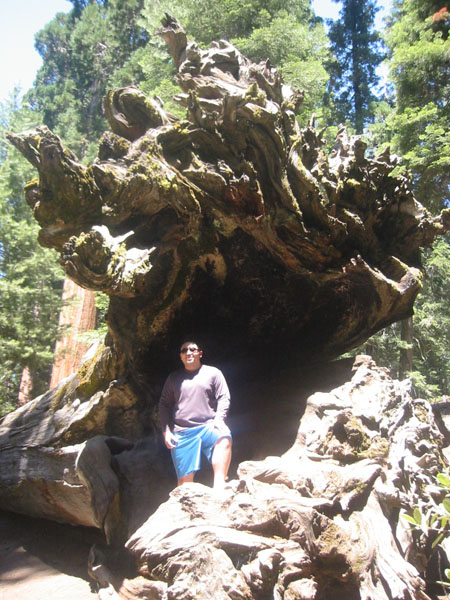 Our next target was the General Sherman tree, about one hour drive south from the General Grant Tree. "The General Sherman Tree in Sequoia National Park is the largest (by volume) tree in the world. " (from www.nps.gov) The height of this tree is 275 Feet tall. This tree is still alive and growing. It is so big that every year it produces enough wood equivalent to a regular sized tree! Seeing this humongous giant was truly awe inspiring, never in my life could I have imagined a tree of this size. To think that this tree has lived over 2000 years is truly amazing!